SELF
ADHESIVE TAPES
:
SONAL Adhesive Tapes are manufactured from BOPP (Biaxially Oriented Polypropylene) Film coated with water based acrylic adhesive. The water based acrylic is the latest advancement in adhesive technology.
Sonal Self Adhesive Tapes can withstand extreme tempetatures, are very strong and have a longer shelf life.They are suitable for Automatic Carton Sealing Machines and Hand Dispensers.
Sonal Self Adhesive Tapes are manufactured by Experienced Technicial Personnel with Rigid Quality Controls. Rigorous quality test's are performed "In House" to ensure best quality.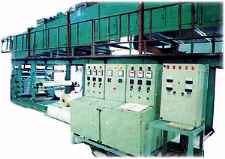 The company has an in house printing facility for upto three colours including the base colour. The printing is done by Rotogravure process which ensures excellent printing.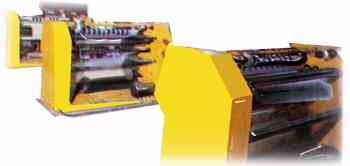 Technical Specifications:
Film Thickness :
Available in 25 and 30 microns
Width in MM. :
9, 12, 18, 24 (+/- 1 mm.)
36, 48, 60, 72, 96 (+/- 1.5 mm)
Length in Mts/ Yards :
45, 50, 65, 100, 650, 1000
Colours :
Transparent Super Clear,
Transparent Yellow,
Tan, Dark Brown, White, Blue,
Green, Red, Yellow etc.
Peel Strength :
800 Grams / 2.5 c.m.
(As Per IS 8402 : 1987 : 6 )
Tensile Strength :
9 Kgs. / 2.5 c.m.
(As Per IS 8402 : 1987 : 6)
Elongation :
100%
( As Per IS 8402 :1987 :7 )
Anchorage :
The Adhesive Mass Shall Not Come
Out From The BOPP Film When Tested
( As Per IS 8402 : 1987 : 7 )
---
tangled ropes glue sticky gummy bonding tensile stick tight hard supple quick tapes